Dakota Shy Wine Dinner
Join us this St. Patrick's Day as Cuvee 30A hosts an exclusive 30A area wine dinner event featuring rising Napa Valley star Todd Newman, founder of Dakota Shy Wines, and Chef Tim Creehan, owner of Cuvee 30A. Seating for this event is limited, early booking strongly recommended. Don't forget to grab a pic with the #ShyWayTour bus in front of Cuvee 30A!
Event date: 6pm March 17, 2021
Event tickets: $125 per person plus tax & gratuity
About Dakota Shy founder Todd Newman
About Cuvee 30A owner Chef Tim Creehan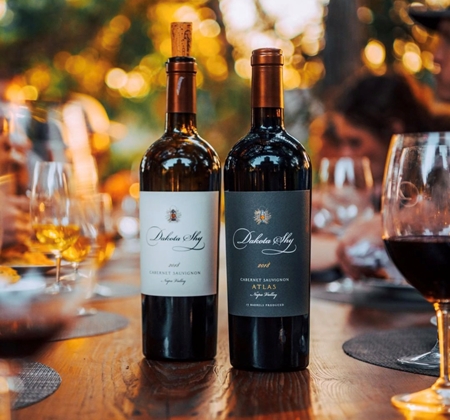 About founder Todd Newman
Todd Newman was raised in a small farming town just outside of Minot, North Dakota. An early understanding of hard work and commitment to getting the job done set the tone early in life for what he wanted and how he was going to get there.
Arriving in Napa Valley in 2002 at just 22 years old, he initially set out to learn the restaurant business. But he soon realized that the farming aspects of Napa paralleled that of his home and with it, a comfort and understanding of the wine industry and community in general. The turning point occurred one night while waiting tables at one of the many Michelin starred restaurants in Napa Valley. "I remember one night, waiting on a grower and a winemaker who were talking vineyards while drinking a super-star bottle of wine – and I realized that is what I wanted to do."
Yet, from humble beginnings, Dakota Shy flourished. Small production Cabernets were created under the brand. Access to the best farming in all of Napa, coupled with some of the industry's best mentors, solidified by a friendship between Todd and Tom, set the course for what has transpired today.
As Todd says, "Dakota Shy is a platform, an incubator of sorts, where people who are hungry in life, who want to chase after a dream, whatever that dream may be, can come and contribute to what we do and hopefully set the course of their own American Dream."
About Chef Tim Creehan
Over three decades of entrepreneurship fostered the creation of FRLA Restaurateur of the Year winner Tim Creehan's many local businesses, including Beach Walk Cafe in 1998 Previously he served as Executive Chef and founding partner of Destin's award-winning Marina Café for ten years. He also opened Creehan's Market, Morgan's, and an Event Center in Miramar Beach that is now home to Vicki McCain's Kitchenique Cooking School. In 2007, Creehan reopened Copper Grill, as well as Bluz Grill & Bar. In 2010 Creehan reopened Cuvee Destin, followed in 2015 by Cuvee 30A at 30Avenue, and 30A Burger in 2018.
Commonly dubbed the Gulf Coast's "celebrity chef", Creehan has appeared on numerous television shows, including as host of the Emerald Coast Chefs series. He's also personally cooked for a slew of high profile celebrities, including Bruce Willis, Jessica Simpson and Rachel Hunter. He served as special chef at the Entertainment Tonight/Getty Images/Gibson Guitar Lodge during the Sundance Film Festival, where he dished up delicacies for the likes of Matthew Broderick, Danny Glover, and Alan Rickman. Recently Emeril Lagasse featured Creehan and Cuvee 30A in an episode of Emeril's Florida on the Cooking Channel.
Tim Creehan grew up in Baton Rouge, Louisiana and trained under Cordon Bleu French Chef Philippe Parola. He went on to transform John Folse's Laffites Landing into a culinary landmark, traveling across the country cooking in Central Park, Malibu, Hong Kong and Beijing. Creehan invented and patented Grill Plus instant marinade in 1997, and he has published three cookbooks. He is involved in many local charities such as the Destin Charity Wine Auction. He enjoys sailing to wine and food destinations to further his ongoing education and explore the journey of simplifying his life and his career.
Dakota Shy Wine Dinner Menu
About Cuvee 30A
Cuvee 30A brings everything the Emerald Coast loves about celebrity Chef Tim Creehan's wildly popular cuisine to South Walton's gorgeous new 30Avenue development. Savor Tim's award winning signature dishes such as Amy Grant's Seared Tuna Rare and Vince Gill's Pecan Crusted Grouper in a stunning venue conveniently situated at the junction of Scenic 30A and Highway 98. As seen on "Emeril's Florida", the DiRoNA awarded Cuvee 30A also features their "Best of the Emerald Coast" voted Happy Hour, live music by Beachcomber Music Award winner Space Junkie, and a world class Wine List bestowed with 30A's ONLY Wine Spectator Best of Award of Excellence.
About 30Avenue
The 30Avenue Development is located directly North of Rosemary Beach at the junction of Highway 98 and County Road 30A. Cuvee 30A is less than 5 minutes from Rosemary Beach and Alys Beach, 10 minutes from Panama City Beach and Seaside on Scenic 30A. Cuvee 30A at 30Avenue is a picture perfect destination and shopping location for the entire Gulf Coast including Santa Rosa Beach, Panama City Beach, Rosemary Beach, Miramar Beach, Sandestin, Destin, Inlet Beach, Alys Beach, Tops'l, Carillon Beach, WaterColor, Seacrest, Grayton Beach, Seagrove, Dune Allen, Watersound, Blue Mountain Beach, Gulf Place, Point Washington, Bluewater Bay, Niceville and more.