Thompson 31Fifty Wine Dinner
Join us in August as Cuvee 30A hosts another exquisite five course wine dinner event with Thompson 31Fifty Wines proprietors Mike and Valerie Thompson, and Chef Tim Creehan, owner of Cuvee 30A. Reservations are required, seating for this event is limited, early booking strongly recommended. This is event is prepaid only, event tickets will be purchased with your reservation.
Event Tickets: $195 per person, tax + gratuity included
Event Date: Monday, August 28, 2023
Event Time: 6:00pm
Event Location: Tim Creehan's Cuvee 30A
Get Directions
View the Thompson 31Fifty Wine Dinner Menu
About Thompson 31Fifty Proprietors Mike & Val
About Cuvee 30A owner Chef Tim Creehan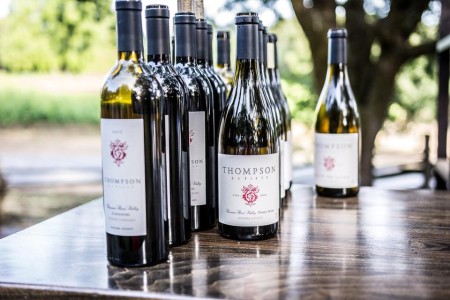 Thompson Wine Dinner Menu August 28, 2023
*Varietals and vintages subject to change based on availability.
*No menu substitutions.
About Mike and Valerie Thompson
Valerie and Michael Thompson, Emerald Coast residents, purchased their vineyard property in the Russian River Valley appellation on 3150 Westside Road, known as the Rodeo Drive of Sonoma County. Their inaugural vintage was 2013 RRV Pinot Noir, sourced from local RRV vineyards. Their wines showcase the classic RRV profile of elegance and balance. Today they produce six Pinot Noir's, three Chardonnay's, Rosé of Pinot Noir, and Zinfandel. In addition to their estate vineyards, the Thompson's farm blocks at Bacigalupi, Martinelli, Lancel Creek, and Lolita vineyards.
Michael C. Thompson is the co-founder of Thompson 31Fifty Wines in Healdsburg, CA. Prior to the wine business, he was the founder and former CEO of Innovative Technical Services, an electronics manufacturing services company based in Alpharatta, GA. He was also the founder and CEO of Eclipse Leasing, LLC, and Thompson Family Wines, LLC. Mike served as a Senior Director with North American Philips, was a vice president of Sanmina Corporation as well as the vice president of sales and marketing for K*Tec Electronics.
Mike is affiliated with an abundance of charitable organizations. He is a board member of the Emeril Lagasse Foundation, the Emerald Coast Children's Advocacy Center and the McCraney Ingram Foundation. He is a former board member of the American Diabetes Association of Houston. He is also a founding board member of Destin Charity Wine Auction Foundation, and has worked with the PADRE Foundation, the Discovery Science Center of Orange County and the United Way Campaign.
A graduate of Texas A&M University with a bachelor's degree in Business Administration in Marketing, Mike continued his studies and received a master's degree in Business Administration in Finance from Texas A&M University Mays School of Business. He and his wife Valerie reside in Destin, Florida.
About Chef Tim Creehan
Over three decades of entrepreneurship fostered the creation of FRLA Restaurateur of the Year winner Tim Creehan's many local businesses, including Beach Walk Cafe in 1998 Previously he served as Executive Chef and founding partner of Destin's award-winning Marina Café for ten years. He also opened Creehan's Market, Morgan's, and an Event Center in Miramar Beach that is now home to Vicki McCain's Kitchenique Cooking School. In 2007, Creehan reopened Copper Grill, as well as Bluz Grill & Bar. In 2010 Creehan reopened Cuvee Destin, followed in 2015 by Cuvee 30A at 30Avenue.
Commonly dubbed the Gulf Coast's "celebrity chef", Creehan has appeared on numerous television shows, including as host of the Emerald Coast Chefs series. He's also personally cooked for a slew of high profile celebrities, including Bruce Willis, Jessica Simpson and Rachel Hunter. He served as special chef at the Entertainment Tonight/Getty Images/Gibson Guitar Lodge during the Sundance Film Festival, where he dished up delicacies for the likes of Matthew Broderick, Danny Glover, and Alan Rickman. Recently Emeril Lagasse featured Creehan and Cuvee 30A in an episode of Emeril's Florida on the Cooking Channel.
Tim Creehan grew up in Baton Rouge, Louisiana and trained under Cordon Bleu French Chef Philippe Parola. He went on to transform John Folse's Laffites Landing into a culinary landmark, traveling across the country cooking in Central Park, Malibu, Hong Kong and Beijing. Creehan invented and patented Grill Plus instant marinade in 1997, and he has published three cookbooks. He is involved in many local charities such as the Destin Charity Wine Auction. He enjoys sailing to wine and food destinations to further his ongoing education and explore the journey of simplifying his life and his career.
About Thompson 31Fifty Wine
We are more than excited to bring you our latest wines! These small batch, handcrafted wines are brought to you full of love for friends and wine. Our Holiday Release includes two beautiful gift packs – perfect for any occasion. And while our Estate Pinot Release – our Succession Vineyard (for our grandchildren (Will and Dylan) – sold out in record time, we have two special, single vineyard releases from the Martinelli Wedding Block and Soberanes Vineyard. Only about 40 cases of each of these wines were made!
To say that we are proud of and excited about our wines is an understatement. Our Pinot Noirs and Chardonnay are the finest expression of our Estate and our Family, and represent something we are proud to put our name on. We are also very excited about the continued expression of our Wine Barn Patio – a vineyard experience designed for style and comfort in the heart of the Russian River Valley. Come out and visit us, and we'll show you some of our finest while you drink in the views!
Thompson 31Fifty Wines is a boutique producer of handcrafted Pinot Noirs, Chardonnay's, Rose and Zinfandel. They are a family-owned winery with a robust team that includes winemaker Patrick Sullivan and vineyard manager Lee Martinelli, Jr. They embrace their customers as friends and family and host privately at their Wine Barn, located at the Thompson's Estate Vineyard property.
Cuvee 30A Reservation Cancellation Policies:
General: $40 per guest. *Please note that voicemails regarding guest relations, including reservations and cancellations, must include name and phone number, and will be returned during business hours Monday through Friday. We cannot guarantee guest relations availability by phone on weekends, and the cancellation notification timeframes are predicated on business days.
Cancellation Policy for Parties of 5-8 guests:
You must call Cuvee 30A 24 hours in advance of your reservation to cancel your reservation or decrease the size of your party to avoid a cancellation fee of $40 per guest on the credit card used to secure the reservation.
Cancellation Policy for Parties of 5-8 guests made during dining hours of 5-10 pm:
If you do not show up this evening to honor your reservation, or your party size decreases substantially, you will be charged $40 per guest on the credit card used to secure the reservation.
Cancellation Policy for Parties of 9 or more guests:
You must call Cuvee 30A 48 hours in advance of your reservation to cancel your reservation or decrease the size of your party to avoid a cancellation fee of $50 per guest on the credit card used to secure the reservation. Note that parties of 16 or more may require a deposit.
Cancellation Policy for HOLIDAY reservations:
You must call Cuvee 30A 72 hours in advance of your holiday reservation to cancel or decrease the size of your party to avoid a cancellation fee of $75 per person on the credit card used to secure the reservation.
Cancellation Policy for ticketed or prepaid event reservations:
You must call Cuvee 30A 72 hours in advance of your ticketed or prepaid event reservation, such as a wine dinner, to cancel or decrease the size of your party in order to be eligible for the applicable refund.
*We do not provide booster seats for liability reasons. If special seating is required, please bring your own device.
About Cuvee 30A
Cuvee 30A brings everything the Emerald Coast loves about celebrity Chef Tim Creehan's wildly popular cuisine to South Walton's gorgeous new 30Avenue development. Savor Tim's award winning signature dishes such as Amy Grant's Seared Tuna Rare and Vince Gill's Pecan Crusted Grouper in a stunning venue conveniently situated at the junction of Scenic 30A and Highway 98. As seen on "Emeril's Florida", the DiRoNA awarded Cuvee 30A also features their "Best of the Emerald Coast" voted Happy Hour, live music by Beachcomber Music Award winner Space Junkie, and a world class Wine List bestowed with 30A's ONLY Wine Spectator Best of Award of Excellence.
About 30Avenue
The 30Avenue Development is located directly North of Rosemary Beach at the junction of Highway 98 and County Road 30A. Cuvee 30A is less than 5 minutes from Rosemary Beach and Alys Beach, 10 minutes from Panama City Beach and Seaside on Scenic 30A. Cuvee 30A at 30Avenue is a picture perfect destination and shopping location for the entire Gulf Coast including Santa Rosa Beach, Panama City Beach, Rosemary Beach, Miramar Beach, Sandestin, Destin, Inlet Beach, Alys Beach, Tops'l, Carillon Beach, WaterColor, Seacrest, Grayton Beach, Seagrove, Dune Allen, Watersound, Blue Mountain Beach, Gulf Place, Point Washington, Bluewater Bay, Niceville and more.