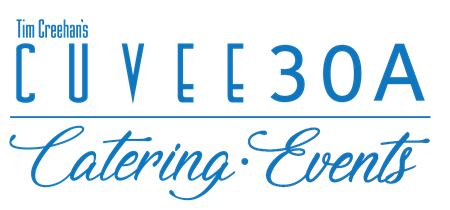 Weddings and Rehearsals, Bridal and Baby Showers, Corporate Meetings and Conventions, Holiday Parties and Galas, Birthdays and Anniversaries, Charities, Benefits and Fundraisers, Banquets, Dinners, Luncheons and Breakfasts, Festivals and Events, Graduations and Commemorations, Dances, Proms and Balls, Private and Public Events, Celebrity and VIP Events
View the Event Venue portfolio
Cuvee 30A Catering & Events
View a few of our interiors, exteriors, catering events and more. Huge galas or intimate gatherings, onsite or offsite, Tim Creehan and the Cuvee 30A Catering team have decades of experience creating memorable events both locally and across the nation. Plan your next event with us! Use the form on this page to submit a catering or event request.
Cuvee 30A Catering Events Overview
Cuvee 30A Catering Events Menu
Menu item availability subject to change without notice.